Quick tips
​Quick tips for searching
Refine your searches to get the best possible results

Always think about the evaluation criteria - is the information you are using

relevant, current, authoritative and reliable?

Consider how authoritative your sources are

Think about the credibility of the web pages; are they suitable for scholarly purposes?

Be critical in your use of websites, and if you use Wikipedia, use it as a starting point only. Check out Wikipedia's reference list for sources.
Add site:edu to your search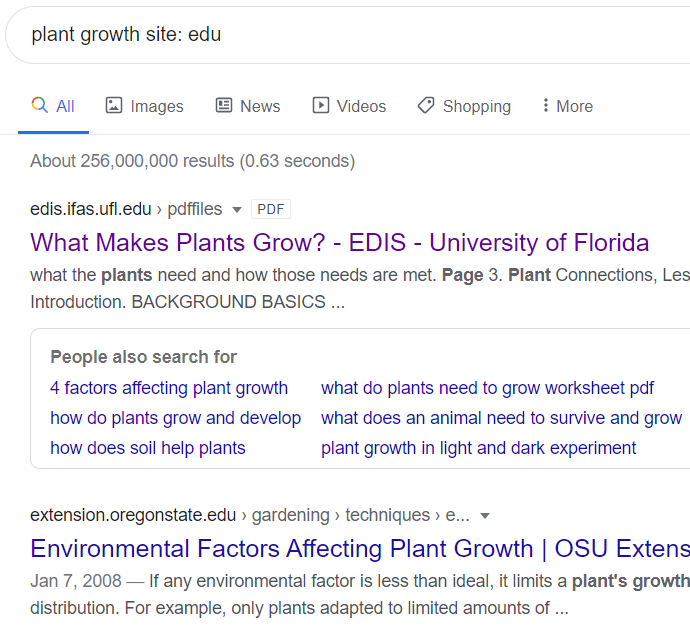 Add site:org to your search
Use a cluster search engine
Carrot2 organizes your search results into topics. With an instant overview of what's available, you will quickly find what you're looking for.
Your search results options are: pie chart, tree map or list. Here's an example of 'pie chart' results for 'plant growth':
You can refine your search further by selecting sections of this pie chart. Try it yourself!
Can l use Wikipedia?
You need to think about how to use Wikipedia. For many topics it's okay to use it as a starting point to get your bearings, browse different sections to get an overview of the general content, then look at the sources used.
For basic scientific information, Wikipedia is actually quite good (and you can check with your teacher to make sure the information is correct.)
See the guide for using Wikipedia in your research.
A search for 'plant growth' yielded some good information organised under useful subheadings. Notice how an initial search for 'plant growth' redirected to an existing result for 'plant development'.
In some cases it is useful to look at the hyperlinked sources used for this article and listed in the references, but in this case, these are not appropriate for year 9 academic level, and the Wikipedia article actually does a good job of summarising the main points.