Quick tips
​Quick tips for searching
Refine your searches to get the best possible results (eg. recent results; specific keywords)

Always think about the evaluation criteria - is the information you are using

relevant, authoritative and reliable? Is it at an appropriate level for what you need?

Think about the credibility of the web pages; are they suitable for scholarly purposes?

Eg nurseries may know their plants but their websites do not provide the scientific level you need.

Yes, you can use Wikipedia, but use it as a starting point only. Check out Wikipedia's reference list for sources for breadth of sources used.
Search wisely
Why not just google? Your search may produce thousands of results, and you won't know if you can trust these sources!
Try Google Scholar or databases to source journal articles. Databases links can be found on the MHS Library Canvas course, which is where you will find the login details for online publications like New Scientist.
You could also try these search tips:
Add site:edu to your search for websites associated with education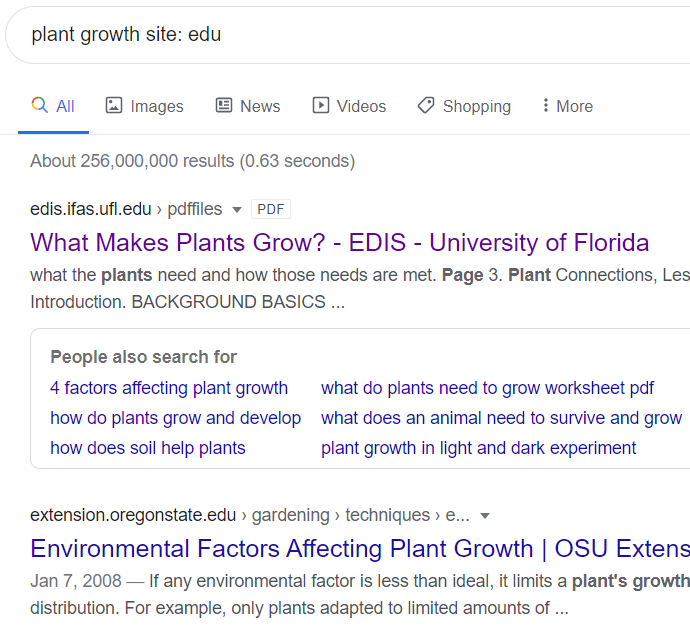 Try adding site:org to your search for information from organisations
Databases, articles - peer reviewed
Search databases, articles, newspapers, journals, magazines online MHS have subscribed to.
Select Science Reference Centre
Select Advanced Search
Refine your search using some of the following options: date of publication, publication type, document type and lexile reading level
Enter keyword/s eg plant growth
Search
In Ebsco:
Select Explorer Secondary Schools
Select Science and Math
Select a category eg. Photosynthesis
Refine your results
How can you refine your results (when there are too many)?:
Use the time slider to select recent years/decades

Select the "full text" option to avoid results with the abstract only (summary)
Read the abstract first to make sure the resource is relevant to you.