Cubism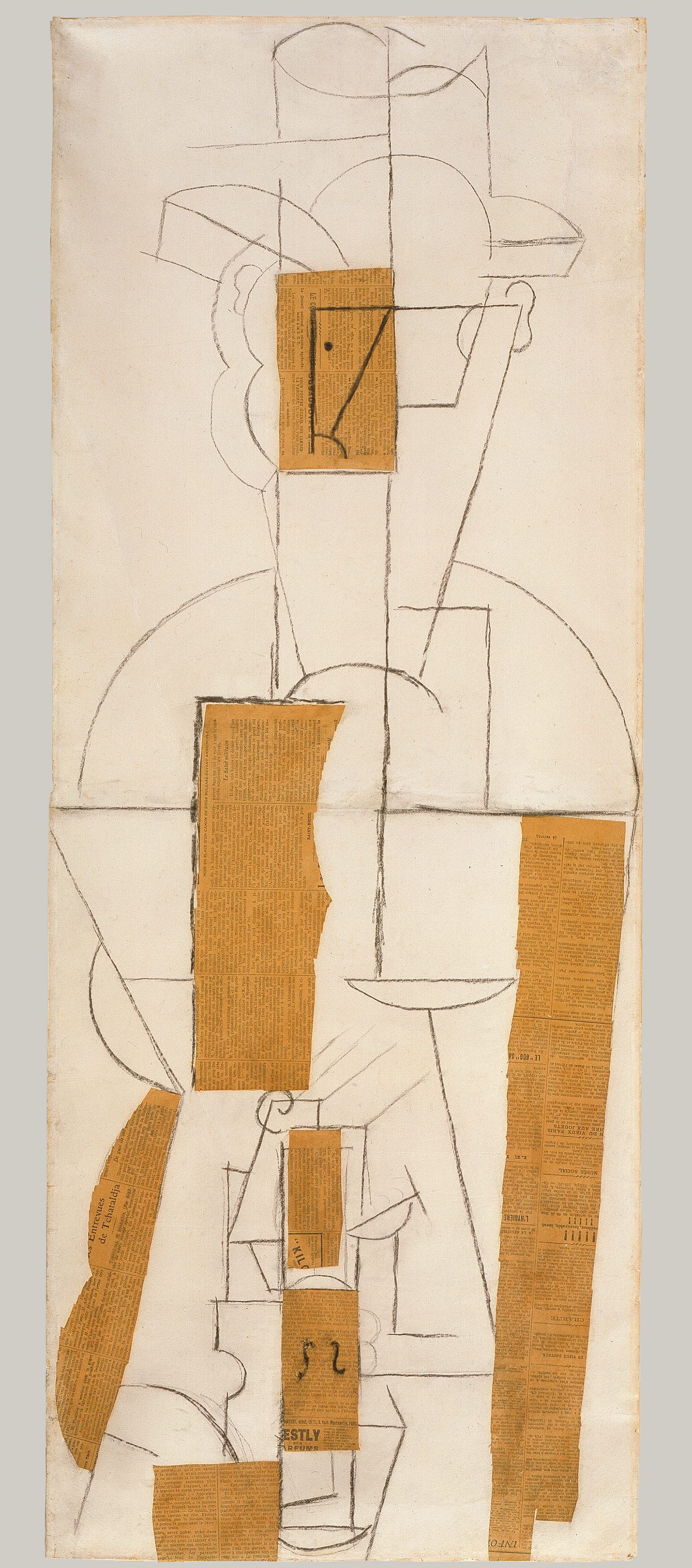 Man with a hat and violin, Pablo Picasso (1912)
Cut and pasted newspaper, and charcoal, on two joined sheets of paper
Cubism was one of the most influential visual art styles of the early twentieth century. It was created by Pablo Picasso (Spanish, 1881–1973) and Georges Braque (French, 1882–1963) in Paris between 1907 and 1914. The French art critic Louis Vauxcelles coined the term Cubism after seeing the landscapes Braque had painted in 1908 at L'Estaque in emulation of Cézanne. Vauxcelles called the geometric forms in the highly abstracted works "cubes." Other influences on early Cubism have been linked to Primitivism and non-Western sources. The stylization and distortion of Picasso's ground-breaking Les Demoiselles d'Avignon (Museum of Modern Art, New York), painted in 1907, came from African art. Picasso had first seen African art when, in May or June 1907, he visited the ethnographic museum in the Palais du Trocadéro in Paris.
The Cubist painters rejected the inherited concept that art should copy nature, or that they should adopt the traditional techniques of perspective, modeling, and foreshortening. They wanted instead to emphasize the two-dimensionality of the canvas. So they reduced and fractured objects into geometric forms, and then realigned these within a shallow, relieflike space. They also used multiple or contrasting vantage points.

In Cubist work up to 1910, the subject of a picture was usually discernible. Although figures and objects were dissected or "analyzed" into a multitude of small facets, these were then reassembled, after a fashion, to evoke those same figures or objects. During "high" Analytic Cubism (1910–12), also called "hermetic," Picasso and Braque so abstracted their works that they were reduced to just a series of overlapping planes and facets mostly in near-monochromatic browns, grays, or blacks. In their work from this period, Picasso and Braque frequently combined representational motifs with letters (1999.363.63;1999.363.11). Their favorite motifs were still lifes with musical instruments, bottles, pitchers, glasses, newspapers, playing cards (1997.149.12), and the human face and figure. Landscapes were rare.
African influences in modern art
During the early 1900s, the aesthetics of traditional African sculpture became a powerful influence among European artists who formed an avant-garde in the development of modern art. In France, Henri Matisse, Pablo Picasso, and their School of Paris friends blended the highly stylized treatment of the human figure in African sculptures with painting styles derived from the post-Impressionist works of Cézanne and Gauguin. The resulting pictorial flatness, vivid color palette, and fragmented Cubist shapes helped to define early modernism. While these artists knew nothing of the original meaning and function of the West and Central African sculptures they encountered, they instantly recognized the spiritual aspect of the composition and adapted these qualities to their own efforts to move beyond the naturalism that had defined Western art since the Renaissance.
Read more here.
Photomontage
Collage made from photographs, or parts of photographs, is called photomontage. Photomontage is the process (and result) of making a composite photograph by cutting and joining a number of other photographs. The composite picture was sometimes photographed so that the final image is converted back into a seamless photographic print. The same method is accomplished today using image-editing software. The technique is referred to by professionals as compositing. (Source)
After Cubism the world never looked the same again
After Cubism, the world never looked the same again: it was one of the most influential and revolutionary movements in art. The Spaniard Pablo Picasso and the Frenchman Georges Braque splintered the visual world not wantonly, but sensuously and beautifully with their new art. They provided what we could almost call a God's-eye view of reality: every aspect of the whole subject, seen simultaneously in a single dimension. (Source)