Find good quality articles in Bloom's Literary Reference Online:
Existential Comics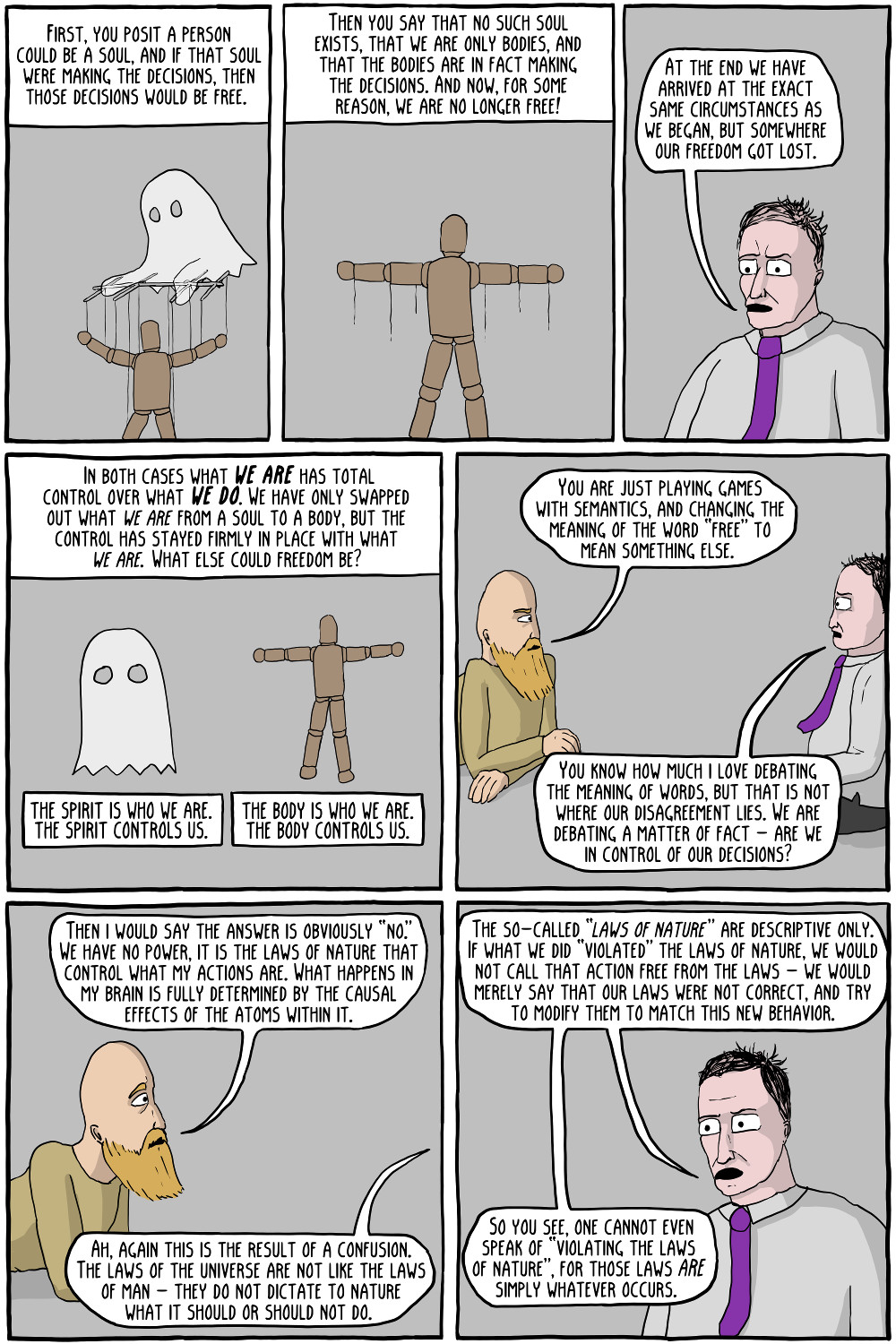 Theatre of the Absurd
Describing the philosophical school of existentialism, French novelist and playwright Albert Camus in The Myth of Sisyphus (1942) wrote,
"[I]n a universe suddenly divested of illusions and of light, man feels an alien, a stranger. . . . This divorce between man and his life, the actor and his setting, is properly the feeling of absurdity."
A few years later, a number of European playwrights, all writing independently and all witnesses to the atrocities of World War II, transformed Camus's existentialist philosophy about the purposelessness of human existence into one of the most influential theatrical movements: the Theatre of the Absurd. The main playwrights and plays associated with absurdism are French: Eugene Ionesco's The Bald Soprano (1950), Samuel Beckett's Waiting for Godot (1953), and Jean Genet's The Balcony (1957). Other playwrights and plays associated with the Theatre of the Absurd are Englishman Harold Pinter's The Birthday Party (1958), Spaniard Fernando Arrabal's Picnic on the Battlefield (1959), Russian-born Frenchman Arthur Adamov's Ping Pong(1955), and American Edward Albee's The Zoo Story (world premiere in Berlin 1959; American premiere 1960) and The American Dream (1961).
Camus and World War II were not the absurdists' only spark. The plays of Euripides and Aristophanes and the Italian theatrical tradition of commedia dell'arte are some of the Theatre of the Absurd's earliest antecedents. Modern influences include French playwright Alfred Jarry's Ubu Roi (1896), dadaism,surrealism, Italian Luigi Pirandello's plays, and the theatrical theorizings of Frenchman Antonin Artaud and German Bertolt Brecht, as well as circus, vaudeville, and early film comedians, particularly the Marx Brothers.
The absurdists confronted the question of existence in a post-Hiroshima world through an ironic depiction of humanity's role in the universe. Featuring clownlike, alienated, and aimless antiheroes, these playwrights' seriocomic works depicted the helplessness and apparent purposelessness of the individual's existence in a world bereft of Providence. At the same time, they challenged the conventions of the theater by relying on circular plots, abstract characters, metatheatrical references, and dialogue steeped in wordplay.
In American theater, absurdist plays were not as numerous or significant as in Europe. Martin Esslin, who coined the phrase "Theatre of the Absurd," notes that absurdist theater hinges on disillusionment as well as on an uncertainty about the purposefulness of life; both characteristics were experienced by many Europeans after the war. Having escaped the physical and economic devastation of World War II, the United States experienced a period of remarkable economic growth; many of its citizens were living the American Dream. Hence, the social, economic, and cultural struggles that encouraged the themes ofabsurdism in the plays of Beckett and others were not present in America. It would not be until the end of the 1950s—a full decade after Ionesco and Beckett wrote their first absurdist plays—that absurdism would appear in American plays. However, the absurdism that did arrive in American theaters was more of a response to the materialistic and progressive streak that defined the United States in the 1950s than an outgrowth of Camus's existential philosophy.
(Source: Boles, William. "theater of the absurd." In Bryer, Jackson R., and Mary C. Hartig, eds. The Facts On File Companion to American Drama, Second Edition. New York: Facts On File, Inc., 2010. Bloom's Literature. Facts On File, Inc. Web. 4 Aug. 2016
Source: flic.kr/p/anHXuJ | Tom Stoppard (c) Matthew Humphrey | Tom Stoppard (c) Matthew Humphrey MIPCOM 2011
Tom Stoppard was born Tom Strausser in Zlin, Czechoslovakia (now Gottwaldov in the Czech Republic). His father, a doctor for the Bata shoe company, immigrated to Singapore in 1939. When the Japanese invaded that country, Dr. Strausser was killed, but his wife and two sons were evacuated to India. In 1945 Martha Strausser married British major Kenneth Stoppard, and her sons took his name.
Stoppard was educated at a multilingual boarding school in Darjeeling, then immigrated with his mother and brother to England, where he attended schools in Nottinghamshire and Yorkshire. In the 1950s he was a reporter for Bristol'sWestern Daily Press and the Bristol Evening World, for which he also wrote drama reviews. In the early 1960s he reviewed plays for the short-lived magazine Scene under the pseudonym William Boot. He has been married twice—to Josie Ingle, a nurse (1965–72), and to the doctor and television personality Miriam Moore-Robinson (1972–1992). He has four sons.
Stoppard is an intensely intellectual playwright. His belief that "truth is a matter of perspective" may well be the product of a youth spent in many parts of the world. The London premiere of Rosencrantz and Guildenstern Are Dead in 1967 catapulted him to fame at age 29. (The play had been performed the year before at the Edinburgh Fringe Festival.) Stoppard's production was hailed as "the most brilliant debut by a young playwright since John Arden's." Though his work has changed as it has evolved over nearly four decades, all his characteristic hallmarks as a dramatist are evident in Rosencrantz and Guildenstern Are Dead. He writes plays of ideas that are witty, parodic, and allusive, erudite but playful, artfully constructed, and full of brilliant flights of fancy. According to the scholar Thomas Whitaker, Stoppard has the "ability to shape intellectual debate into a dazzling three-ring circus."
Rosencrantz and Guildenstern Are Dead originated as a one-act verse play Stoppard wrote while on a Ford Foundation grant in Berlin with other young playwrights in 1964. The first draft was called Rosencrantz and Guildenstern Meet King Lear, but King Lear was soon dropped. The central idea stemmed from Stoppard's realization that in Shakespeare's Hamlet, the marginal characters Rosencrantz and Guildenstern are "the most expendable people," and that "the fact that they die without ever really understanding why they lived makes them somehow cosmic." This absurdist drama echoes Samuel Beckett's Waiting for Godot with its two central characters who flip coins and play verbal games as they ponder their identities and destiny. In Stoppard's play, the melancholy Hamlet and the royal house of Denmark are relegated to the sidelines as Rosencrantz and Guildenstern take center stage.
(Source: Stade, George, and Karen Karbiener. "Stoppard, Tom." Encyclopedia of British Writers, 1800 to the Present, Second Edition. New York: Facts On File, Inc., 2009. (Updated 2011.) Bloom's Literature. Facts On File, Inc. Web. 4 Aug. 2016)
Read The Real Inspector Hound online.
In 1966 Stoppard wrote a novel, Lord Malquist and Mr. Moon, followed by two short plays, The Real Inspector Hound (1968) and After Magritte (1971), which are often produced together.
The first draws on the author's experience as a drama critic and contrasts two different critics who are drawn into the play they are reviewing, a spoof of an Agatha Christie whodunit. When the curtain rises on After Magritte, an audience may think it is facing a René Magritte painting come to life. People and objects are wrenched out of their normal settings or contexts, creating absurd effects. A policeman looks through a window into a room where a woman is lying upended on an ironing board, draped in a white sheet, with a bowler hat on her stomach; while another well-coiffed lady, dressed in a full-length ball gown, crawls along the floor, and a man (her husband), clad in evening dress and fishing boots, blows into a lamp shade. It is the play's task to "explain" this scene. (Source: Stade, George, and Karen Karbiener. "Stoppard, Tom." Encyclopedia of British Writers, 1800 to the Present, Second Edition. New York: Facts On File, Inc., 2009. (Updated 2011.) Bloom's Literature. Facts On File, Inc. Web. 4 Aug. 2016
Photos of a production of The Real Inspector Hound directed by Cat Parker (Source: Flickr)