30 The Bond, Sydney
When Lend Lease, its builder and current owner decided to create its new headquarters in Sydney it decided to hold numerous employee workshops to determine what they believed were the important priorities. Those priorities were reduction in pollutants, increase in environment quality, water management (as Australia has now been in what seems a permanent drought), waste management and a green area for them to enjoy. All of this resulted in an extremely well designed commercial building.
The first CBD base building in Australia to commit to achieving five stars under the Australian Building Greenhouse Rating system, 30 The Bond, owned by DBRREEF, comfortably surpassed its greenhouse emission objectives during the initial 12-month monitoring period. Read more about 30 The Bond here, here and here.
Westfield Sydney, Sydney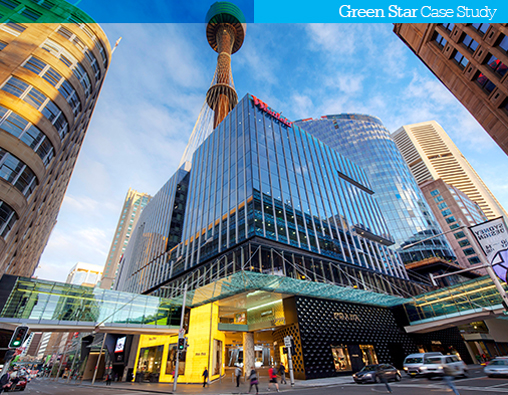 The Westfield Group aspired to deliver a sustainable retail shopping centre in the heart of Sydney's CBD. We saw it as incongruous to deliver a world-class centre in the absence of sustainability objectives. Green Star provided us with a platform to enhance and verify the development's environmental attributes. Read the rest here.
Pixel Building, Melbourne
Pixel Building, Melbourne : "Pixel is a world first, not just an Australian first," Daniel Grollo, Grocon CEO, says. "We believe Pixel is truly the office of the future and one of the most sustainable buildings in the world. We hope it will lead the way in terms of carbon neutrality and sustainability for years to come."