Oil painting processes and techniques
Pigments in oil
Oil Paint from Pigments through the Ages
Oil paints have long been used by master painters, both historical and contemporary, to create paintings imbued with a stunning lifelike quality as well as a sense of depth.
Oil paints are a popular medium due in part to their versatility and archival properties. Oil paintings often possess an unsurpassed richness, depth and luminosity that lends itself well for capturing highly realistic objects and scenes. Oil paints became popularly used in the 15th century in Europe, and many of these paintings exist today with the same vibrancy and color saturation as they had when they were first created.
Oil paints are comprised of pigments ground with oils, most commonly linseed oil. The mixture of pigment and oil is then dried to the consistency of butter, causing the applied paint to dry slowly without changes in color intensity. When oil oxidizes, it forms a solid film that binds the pigments, allowing oil paintings to be enjoyed for hundreds of years.
Read more here and see the interactive oil painting in its stages from beginning to finished product.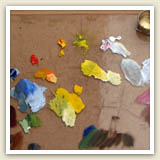 Gerhard Richter - Abstract painting No. 439
Title
Abstract Painting No. 439
Abstraktes Bild Nr. 439
Medium
Oil paint on canvas
For many years Richter used photographs as a source for his figurative works. In the mid-1970s he began to incorporate photography into the process of making abstract paintings. This work was made by photographing one of his smaller compositions (Oil Sketch No. 432/11), which he then projected onto a large canvas, and then traced in charcoal. He completed the larger painting with conventional brushes and oil paint, working the surface into a smooth state of finish which suggests the glossy surface of a photograph.
Source: Tate.org