Key Facts
Emily Elizabeth Dickinson was born 10 December 1830 and died May 15, 1886

She wasn't well known during her life, but posthumously is now regarded as one of America's greatest poets

She was the middle child of Edward and Emily Norcross Dickinson, and was born in Amherst, Massachusetts in the USA. She had an older brother, Austin, and younger sister, Lavinia.

It wasn't until her early twenties that writing became increasinly important to her, something she reveals in letters to her brother, Austin.

Her most prlific perod of writing was 1858-1865, a time period which overlaps with the American Civil War.

Her brother married one of her closest friends, Susan Huntington Gilbert, and they lived next door to the Dickinson 'Homestead'

By the time Emily was 35, she had written more than 1100 poems

Emily was very secretive about her poetry - she compiled little booklets (now called Fasicles) containing more than 800 of her poems, but she shared them with very few people

in 1864 and 1865 she underwent treatments for a painful eye condition. Once she returned from those trips to the Boston Ophthalmologist, she returned to Amherst and rarely left the grounds of her family home.

Her later life is filled with illness and death - her father died in 1874, her mother had a stroke in 1875, her nephew Gip died in 1883, and a suitor of hers Otis Phillips Lord died in 1884. She herself died at age 55 on May 15, 1886.
The Emily Dickinson Collection at Harvard University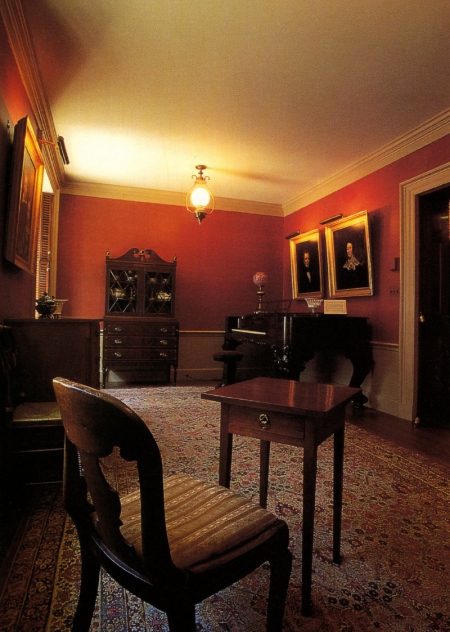 THE EMILY DICKINSON ROOM, HOUGHTON LIBRARY. WILLIAM MERCER, PHOTOGRAPHER
Emily Dickinson Archive provides access to images of nearly all of Emily Dickinson's extant poetry manuscripts.
A collaborative effort across many institutions, the archive provides readers with images of manuscripts held in multiple libraries and archives, and offers an array of transcriptions of Dickinson's poems. It also features digital tools intended to foster exploration and scholarship.
The site allows users to:
browse images of manuscripts by first line, date, or recipient;
turn the pages of and zoom into the manuscripts;
search the full text of six editions of Dickinson's poems;
browse Emily Dickinson's Lexicon, a resource indexing Dickinson's word choices along with their contemporary definitions; and
create an account to make notes on images, save transcriptions of poems, and create new editions of her poetry.
The Dickinson Children
(O.A. BULLARD, ARTIST. THE DICKINSON CHILDREN. (EMILY ON THE LEFT). OIL ON CANVAS, CA. 1840. GIFT, GILBERT H. MONTAGUE, 1950)
The Dickinson children (Emily on the left), ca. 1840. From the Dickinson Room at Houghton Library, Harvard University.
Literary Criticism
Archer, S. (2017). 'I had a terror': Emily Dickinson's demon. In Emily Dickinson, 2017 Edition. New York: Facts On File. Retrieved May 16, 2021, from online.infobase.com/Auth/Index?aid=104830&itemid=WE54&articleId=485463.
Hughes, G. (2017). Love, terror, and transcendence in Emily Dickinson's poetry. In Emily Dickinson, 2017 Edition. New York: Facts On File. Retrieved May 16, 2021, from online.infobase.com/Auth/Index?aid=104830&itemid=WE54&articleId=485464.
Evans, R. C. (2020). Toward eternity: The final journey in Emily Dickinson's "because I could not stop for death". In Bloom's Literary Themes: Death and Dying. New York: Facts On File. Retrieved May 16, 2021, from online.infobase.com/Auth/Index?aid=104830&itemid=WE54&articleId=2566.
Leiter, S. (2006). Puritan heritage in the works of Emily Dickinson. In Critical Companion to Emily Dickinson. New York: Facts On File. Retrieved May 16, 2021, from online.infobase.com/Auth/Index?aid=104830&itemid=WE54&articleId=14094.
Emily Dickinson
A daguerreotype of Emily Dickinson taken in either late 1846 or early 1847, when Emily was roughly 17.
Photo from the Emily Dickinson Museum, Amherst. https://www.emilydickinsonmuseum.org/emily-dickinson/
The Emily Dickinson Museum
Relationship with Susan Gilbert Dickinson
(A daguerreotype of a young Susan Dickinson with a frame, contributed from Dickinson Family Photographs (MS Am 1118.99b). Houghton Library, Harvard University)
Susan Huntington Gilbert was born on December 19, 1830
She got engaged to W. Austin Dickinson (Emily Dickinson's older brother) in 1853 and they married in 1856
They moved into a newly built home (The Evergreens) next door to her In-laws in Amherst, Massachusetts
The couple had 3 children - Edward (Ned) bown 1861, Martha (Mattie) born 1866 and Thomas (Gib) born 1875. Both of her sons died before her.
Emily and Susan became close friends in 1850, and Susan was one of the only people to read much of Emily's poetry before death
The couple's relationship deteriorated and Austin had a long lasting affair with Emily's eventual first editor and Biographer - Mabel Loomis Todd.
Handwritten Poems

Amherst College, founded in 1821 by Emily Dickinson's grandfather Samuel Fowler Dickinson, had a rich history associated with the Dickinson family. Emily's father Edward was the College Treasurer from 1835 to 1873, Emily's brother Austin attended the college (clas of 1850) and took over as Tersurer from 1873 until his death in 1895, and Emily nephew Ned attended and then worked as a Librarian at the college.
In 1956 the College was gifted more than 850 poems and parts of poems, and more than 350 letters. This is the most significant collection of Dickinson manuscripts in the world.
View the digital copies of these manuscripts HERE