Skip to main content
It looks like you're using Internet Explorer 11 or older. This website works best with modern browsers such as the latest versions of Chrome, Firefox, Safari, and Edge. If you continue with this browser, you may see unexpected results.
NSW serviceman portraits, 1918-1919 - Leslie John Locke. Locke was awarded the Military Medal.
Douglas Grant, draughtsman and soldier, with his ornamental pond and Harbour Bridge, Callan Park, between 1932-1940.
Did you know? Aboriginal and Torres Strait Islander Australians have fought for the nation in every war since Federation in 1901.
Read about the Stafford Brothers.
An Aboriginal soldier from Thursday Island, which is off the far north coast of Australia (open link for photo)
Aboriginal cricket team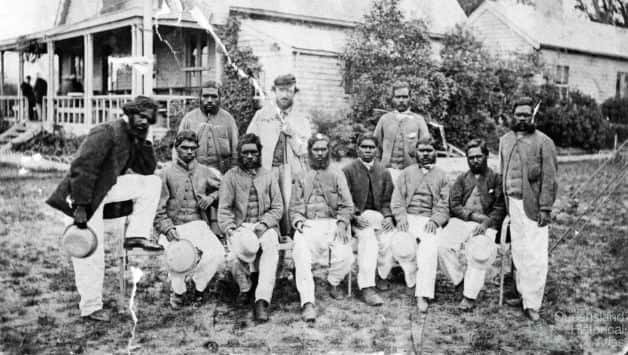 The Aboriginal cricket team pictured with their captain and coach Tom Wills at the Melbourne Cricket Ground, December 1866. (Wikipedia)
The Aboriginal team playing against Melbourne Cricket Club at the MCG, early 1867 (Wikipedia)
Johnny Mullagh, the team's star all-rounder (Wikipedia)
The Sporting Life, London 16 May 1868: The arrival of the Australian Aboriginal cricket team in England. (Wikipedia)
Sporting notes (The Maitland Mercury and Hunter River General Advertiser, 15 March 1883)
Aboriginal cricket: The first Australian tour of England, 1868
Geoffrey Gurrumul Yunupingu (22 January 1971 – 25 July 2017), also referred to since his death as Dr G Yunupingu,[note 1][3][4][5] was an Indigenous Australianmusician.[6] A multi-instrumentalist, he played drums, keyboards, guitar (a right-hand-strung guitar played left-handed) and didgeridoo, but it was the clarity of his singing voice that attracted rave reviews. He sang stories of his land both in Yolŋu languages such as Gälpu, Gumatj or Djambarrpuynu, and in English.[6][7] Although his solo career brought him wider acclaim, he was also formerly a member of Yothu Yindi, and later Saltwater Band.[6] He was the most commercially successful Aboriginal Australian musician at the time of his death.[6] (Source: Wikipedia)