4. World English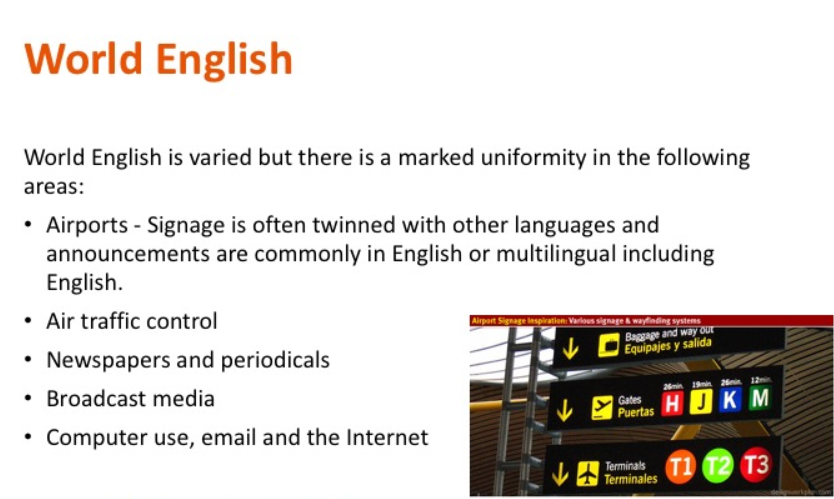 7. Varieties of English
10. Stress timed and syllable timed rhythm
13. Dominantly non-rhotic
16. Effect of English on national identity
19. Linguistic relativism and determinism
Englishes in contact - articles
Language death
Why do languages die?
Rhoticity
2. What is global language and what does global status mean?
5. Very large languages
8. Native English
11. Rhoticity and non-rhoticity
14. Language and social identity
17. Effect of English on national identity
20. Sapir Whorf hypothesis
Pidgins and Creoles
English as a killer
1. Lingua Franca
English as a lingua franca (ELF) is the use of the English language as "a common means of communication for speakers of different first languages".[1] ELF is also "defined functionally by its use in intercultural communication rather than formally by its reference to native-speaker norms"[2] whereas English as a foreign language aims at meeting native speaker norms and gives prominence to native speaker cultural aspects.[3] While lingua francas have been used for centuries, what makes ELF a novel phenomenon is the extent to which it is used – both functionally and geographically. A typical ELF conversation might involve Swedish and Japanese business people chatting at a coffee break during an international conference held in Nairobi, or an Argentinian tourist asking a local for the way in Berlin. (Source)
3. Why English?
6. Kachru's expanding circles of English
9. Exploring Englishes by phonology
12. Dominantly rhotic groups
15. Globalisation: The good, the bad, and the ugly
18. What about this?
21. Four ideas of the hypothesis