MyBib
MHS Library suggests creating a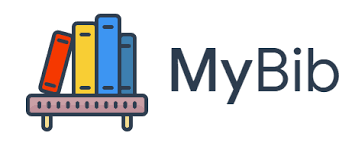 account via the MyBib website, then create a project to collect your citations.
MyBib will allow you to create a project (bibliography) and add citations to your project as you research.
Your teacher may suggest a specific citation style, for example, MLA, APA7, Harvard.
If your teacher does not suggest a style, MHS suggests you use APA7.
See our video tutorials in the table of contents on the left ('How to use online citation generators') for instructions on how to select APA7.
Recommended free citation generators
Citation generators can help you create a reference or citation more quickly than if you do it manually, but you still need to check to see if anything is missing, and then add these things manually. Check that the citation generator has the referencing style you need.
There are several options for free citation/referencing generators:
Create a MyBib account, then create a project to collect your citations.
Citefast is used by the University of Melbourne. This link takes you to APA7, the university's preferred referencing style. Free plans save your work for only 7 days.
Cite This For Me provides formatting not only for printed materials and websites, but also for things like podcasts, online videos, and more. Free plans save work for 7 day but you can pay for add-ons.
Zoterobib helps you build references without an account/software.
Zotero is a reference management tool, which includes a citation generator and more. It is a downloadable application which create citations, bibliographies and has a note-taking feature. More information on using Zotero can be found here.
Is your source credible?
Don't forget to consider these factors.
Purpose : Reason the source exists
Is the point of the information to inform, persuade, teach, or sell?

Do the authors/publishers make their intentions clear?

Does the information appear to be fact or opinion?

Does the point of view seem impartial? Do they identify counter-arguments?
Authority - Author:Source of the information
Who is the author? What are their credentials or qualifications?

What makes the author qualified to write on this topic?

Is there clearly defined contact information for the author?
Authority - Publisher:Source of the information
Who is the publisher? Is it a non-profit, government agency, or organization? How might this affect their point of view?

What makes the publisher qualified to generate works on this subject?

What can the URL tell you about the publisher? For instance, .gov may signify that it is a government agency.
Accuracy : Reliability and truthfulness of the content
Where does the information come from?

Can the information presented be verified? Is it supported by evidence that is clearly cited?

Does the language used seem free of emotion, and does the work seem impartial and objective?

Are there any spelling or grammatical errors? If an online source, are all links working?

If it was reproduced, who edited/reproduced it? Where was the information originally published?

How original are the ideas presented in the work? Do they seem to be common knowledge?
Relevance : Importance of the information to your topic
Does the information relate to your topic, or answer the question you have presented?

Who is the intended audience of the work? Does that audience match with yours?

Have you looked at other sources related to this one? Does it seem there are many others on the topic?

Are you utilizing the entire source, or just a part of it?
Currency : Timeliness of the information
When was the information published? When was it last updated? Does it reflect the most current information available?

How does your topic fit in with this source's publication date? Do you need current information to make your point or do older sources work better?
Comprehensiveness
Does the source present one or multiple viewpoints on your topic?

Does the source present a large amount of information on the topic? Or is it short and focused?

Are there any points you feel may have been left out, on purpose or accidentally, that affect its comprehensiveness?