The Acacia light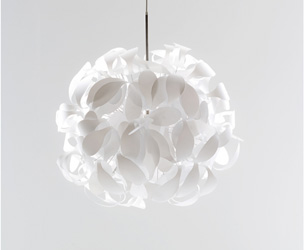 The Acacia light is inspired by the incredible hallucinatory qualities of the medicine plant. Twisting, turning and tumbling in on themselves, the seed pod shapes wrap around in a continuous flow of light imbued energy. This elegant design is the first in Marc's series of lights featuring unique polycarbonate shapes poised on tensile stainless still wires, and suits a variety of projects and interiors.
Made of hand-dyed polycarbonate, stainless steel spring wire and urethane

Floor lamp has a hydro stone base

Pendant lamp has an aluminum ceiling fitting

Dimensions:

Floor: 33.5in diameter, H 70.9in

Pendant: 33.5in diameter

Available in white

Lightweight shade separates from stem for easy cleaning
Source: Designs Abroad
About Marc Pascal
Marc Pascal was born in Australia in 1959. He studied fine art - painting and printmaking at the Victorian College of the Arts and ten years later industrial design at RMIT. He has received many grants and awards and exhibits his work regularly.
Marc currently works as an independent designer and producer, developing an evolving array of products that bring happiness and empower the spaces they find themselves in. He is an emotive and tactile person, who loves to play with materials, colour, and light. He works in an intuitive way, in an attempt to imbue each piece with spirit and love.
(Source: Tongue + Groove Interiors)
Lighting: Orchid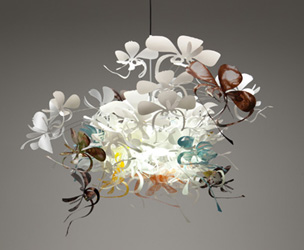 From the unique mind of Mark Pascal comes the exotic and playful Orchid Lamp, the fourth in a series including the popular Eyoi yoi design. Made from long-life polycarbonate and stainless steel wire, the lamps are hand-crafted in Pascal's Melbourne studio. The tensile stainless steel wire gives life to the individual fronds of the lamp, capturing the mysterious and stunning qualities of the wild orchid flower. Each lamp is hand-made and dyed and can be customized to your taste, producing an individualized mix of colors and shapes and an emotionally engaging statement piece for residential or commercial spaces.
Made of hand-dyed polycarbonate, silicon aluminium hydro stone, stainless steel spring wire and urethane resin

Available in 80% white, 20% multi color (variations of color and sequence)

Color schemes may be customized based on available images or a Dulux color chart

Lightweight shade separates from stem for easy cleaning

Available as a pendant lamp, table or floor lamp

Dimensions for each lamp style:

Pendant: W 43.3in x L 33.5in x H 33.5in

Table: W 43.3in x L 33.5in x H 43.3in

Floor: W 43.3in x L 33.5in x H 70.9in
Source: Designs Abroad
VoVo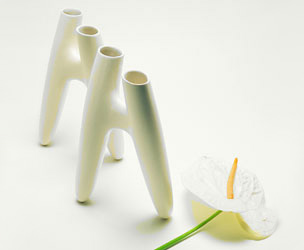 In Marc Pascal's world options and freedom of choice are paramount. Even a vase takes on greater potential than its historical predecessors, where the flower lover is offered multiple cavities in which to manipulate colours and smells. Created in ceramic white porcelaneous stoneware, they are both elegant and surreal. Smooth eggshell-like surfaces, marching tubular vessels and hints of the voluptuous curves of deep-sea coral demonstrate Pascal's constant investigation and questioning of familiar formulas for functional objects.
Made of porcelaneous stoneware

Satin white finish

Dimensions: H 10.6in x W 5.5in x L 14.8in
Source: Designs Abroad
The Worvo pendant
Woven shade inspired by classic feminine curves. Polycarbonate, steel, poly ethyline, aliminium